Tom's focus on dynamics and sensitivity to the song has rewarded him with the opportunity to play for a diverse group of artists, covering a multitude of styles. Based in Victoria, British Columbia, Tom has toured across Canada, the United States and into Europe. He has performed and recorded with an ever-growing list of talented bands and artists, including: Sam Weber, Dougal Bain, Jay Sparrow, Dirty Mountain, Aidan Miller, Steph MacPherson, Vince Vaccaro, Lola Parks, Hannah Georgas, Ken Lavigne, BlackAngus, Bučan Bučan, Dustin Bentall, The Human Statues, The Starlight Pops Choir, Annie Nolan, The Paperboys, Johnny Action Figure, Ryan McMahon, Ghost of Science, Lindsay Bryan, Canadian Beauty, Toni Childs, James Kasper and Rick May, plus many more.
When teaching, Tom's focus is on the development of the student's musical voice and sensitivity to the song. He leans less toward the idea of perfect technique, preferring to explore musical flexability, providing more tools to work with. Involving drums in charity work is another passion. Tom unites the local drum community to procure and repair discarded drum kits, donating them to youth organizations such as Big Brothers and Big Sisters.
Tom favours a vintage sound, and often plays various drums from a certain time period. He also proudly plays and endorses Dream Cymbals, because of their extensive sound palette, hand-hammered craftmanship and distinct vintage tones.
Current projects include: Bučan Bučan, BlackAngus, Ken Lavigne, Dirty Mountain, Steph MacPherson and Aidan Miller.
20" Dark Matter Energy Ride, 17" Bliss Crash, 14" Energy HiHat Bottom, 17" Vintage Bliss Crash, 14" Bliss HiHat Top

Suitcase Kit
A busking kit I made that allows me a "full kit" experience that all fits into the "bass drum"
Includes Dream Cymbals 13" Contact HiHats and 10" Bliss Splash
See Instagram for more pictures.
I was born in the Comox Valley, a small region on Vancouver Island, in the most Western part of Canada. Road trips with my Dad featured cassettes filled with The Beatles, Supertramp, Neil Young and Led Zeppelin. My childhood consisted of Star Wars, G.I. Joe and stomping around the wooded areas surrounding my home.
At the age of 8, my Dad and I went to Vancouver for a family reunion. That was the weekend I was introduced to my cousin James, and his drumset.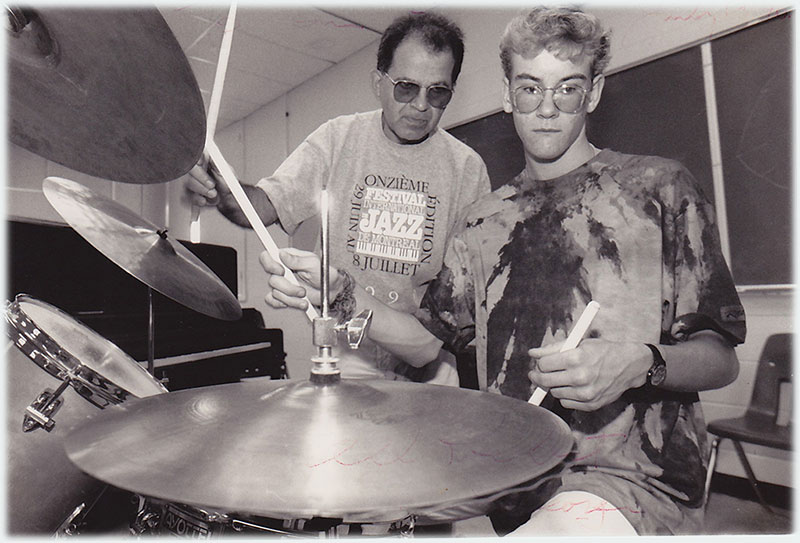 By the time junior high had started, I was deep in love with the drums, spending my evenings after school in the band room, playing the school kit until the janitor would have to lock up and kick me out.
I took every opportunity to play drums, joining dixieland jazz combos, playing in the stage band and jamming after school with my friends. In the summers I would go to the CYMC Jazz program, a local two-week music camp that featured top Jazz players from around the world. It was there, under the tutaledge of George Ursan and Phil Nimmons I learned the importance of dynamics, having good time and most of all, listening.
Set on the path...
In the years that followed, I grew as a musician by taking the lessons that playing Jazz had taught me and applying them to every style of music I could find. I would sneak into bars and play in bands with members many years my senior. No genre was taboo; I wanted to learn it all.
By the time I had graduated high school, I'd established myself in the Valley music community. It was time for deeper waters.
I moved to Victoria, BC with hopes to play music in a bigger scene, with more bands and greater challenges. Now, years later, I've toured across Canada and into the US, found musical inspriation in Europe, played amphitheatres, festival main stages and coffee shops. I'm still hungry to learn and grow, lay down a deep pocket and always, always listen.
Over the years, I've had the opportunity to play with some amazing bands and musicians. I look forward to playing with many more in the days to come.
Please contact me for studio or session opportunities, or if you have any questions.